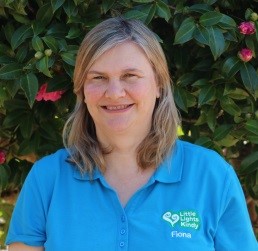 Fiona Smith
Centre Manager
Kia ora, koutou,
My name is Fiona Smith. I am married to Daniel and we have a grown up son Caleb, who also came to Little Lights years ago, he is now enjoying life in Hamilton with his girlfriend Jamie. Daniel and I have lived in Rotorua for over 20 years. We live rurally and enjoy the peaceful, natural surroundings here. I enjoy gardening, walking and just lately trout fishing. I also love the beach as I was brought up at Waipu Cove (a little place not far from Whangarei).
I have been working in early childhood education most of my working life, gaining a degree in ECE in 2007. I love to see the growth and development of the children we work with. My main aim here at Little Lights is to acknowledge and support the teachers in their roles so they are able to be peacefully engaged with the children.
Nāku noa, nā FIona 
"I've learned that people will forget what you said, people will forget what you did, but people will never forget how you made them feel."
- Maya Angelou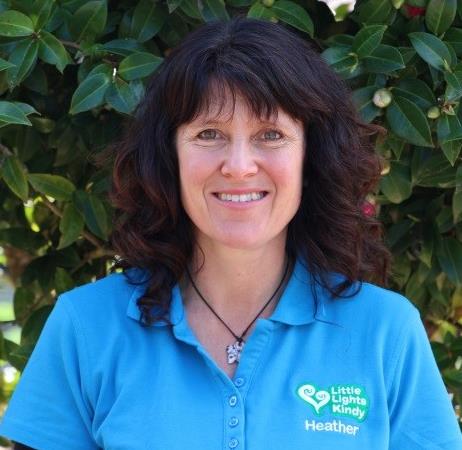 Heather Jeffcote
Administrator
Kia ora koutou. My name is Heather Jeffcote. I am married to Steve and we have 4 children; Mike, Alana, Rachel and Jeremy. We also foster children through the Open Home Foundation.
I like spending time with friends and family, reading, walking and enjoying the beautiful lakes, forests and beaches around here. I get to share my enjoyment of te ao tūroa, the natural world, with the children here at Little Lights too - our animals, farm and forest provide an amazing learning environment.
With my love for God and my heart to serve young children and their families, it is wonderful to be part of the awesome team at Little Lights. I am a qualified primary teacher with a Bachelor of Education, and find teaching in Early Childhood a perfect 'fit' for me...so many open-ended possibilities for learning in a natural context. I am passionate about creating a language-rich environment that inspires curiosity and creativity. Every day I have the privilege of seeing children grow in character and discover and develop their unique strengths and interests. I get to learn and grow all the time myself too!
I really value parent's insights and welcome your input, as we partner together to help your child thrive at Little Lights. 
Nāku noa, nā Heather 
 "Be imitators of God… as dearly loved children, and live a life of love... "     Ephesians 5:1